Occasionally, you may run over an odd bug on your iPhone that will leave you disappointed. Sometimes your iPhone contacts may go missing. One such issue is that the contacts on your iPhone will out of nowhere vanish with no good explanation. Here is what you need to do if your iPhone contacts missing.
Why Your iPhone Contacts Disappeared?
There are few reasons you may meet that can cause iPhone contacts missing or disappeared:
Jailbreaking your iPhone
New iOS software update or iOS downgrade
Mistakenly delete your contacts
iOS system issues or iTunes restore/sync issues
Many iPhone users have reported and informed about this issue and I've personally had this issue previously. Fortunately, it is easy to bring back the iPhone missing contacts right now, and here is how you should do it
How to Bring Back the Missing Contacts on an iPhone.
Method 01: Disable Contacts in iCloud and Turn on again
Step 1: Go to Settings > iCloud.
Step 2: Turn off the toggle for Contacts. If you get a prompt for removing the previously synced contacts, choose Delete from My iPhone (this will remove the contacts just from your iPhone and not from iCloud).
Step 3: Now force reboot your iPhone:
Press the Sleep/Wake and Home buttons together until your device restarts and you see the Apple logo. On iPhone 7 and iPhone 7 Plus, you have to press the Volume Down and Home button.
Step 4: Go back to Settings > iCloud and toggle on Contacts.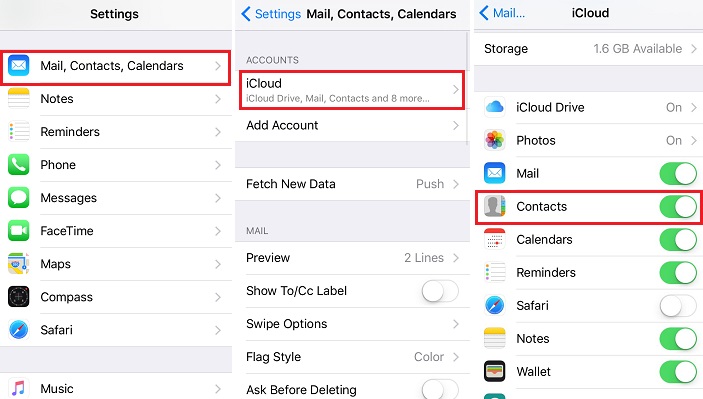 Method 02: Sign out of iCloud and Sign-in again
Step 1: Go to Settings > iCloud.
Step 2: Scroll to the bottom and click on Sign Out.
Step 3: Now Sign-in to your iCloud account.
Step 4: Make sure that the toggle for Contacts is turned on.
Method 03: Restore your iPhone from iTunes Backup
If you took a backup of your iPhone recently in iTunes before this problem appeared, then you can restore from that backup to get back the missing contacts from iPhone.
Step 1: Connect your iPhone to your computer and open iTunes.
Step 2: Click on the device icon to open the Summary page.
Step 3: Tap on Restore Backup.
Step 4: Choose the most recent backup of your iPhone and then tap on Restore.
Method 04: Change Groups Settings
Step 1: Open the Phone app.
Step 2: Go to the Contacts tab.
Step 3: Tap on Groups in the top left corner.
Step 4: Deselect the All iCloud option.
Step 5: Now click on All [iPhone Name] to select it.
Step 6: Click on Done in the Top Right Corner to save the settings.
In the contacts list, you will now see a list of all the contacts saved on your iPhone. Find the ones that are missing and add them to your contacts. This will sync it with iCloud.
Method 05: Reset the Network Connections
Step 1: Go to Settings > General > Reset > Reset Network Settings.
Step 2: Enter your passcode when requested.
Step 3: You should see a warning message that this action will delete all your network settings. Choose "Reset Network Settings" to continue.
Step 4: Check to see if your contacts disappeared from iPhone are back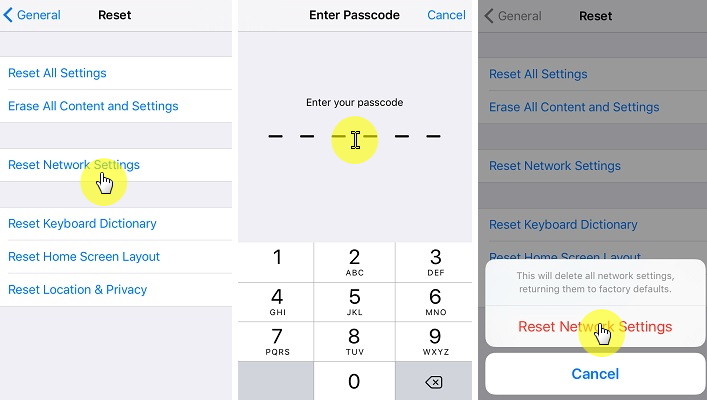 These are the 05 methods for getting back the contacts that are absent on your iPhone. It can be frustrating when your important contacts disappear all of a sudden out of nowhere, so we suggest that you regularly take backups of your iPhone in iTunes to prevent losing your important data.
Ever used another method of restoring your missing contacts? Let us know in the comments below.
iPhone Contacts Disappeared After iOS 14 Update? How to Fix

Read more tricks about iPhones here